To place your order, please call us at (740) 484-4656 or email us at [email protected]
We can deliver to any state in the US or Canada
If you find a lower price, we will beat it!
Poly Dining Tables - Sold Individually
We realize that you have different needs and and desires for your outdoor dining.  So we offer individual Tables and Chairs for your convenience.  We have a wide variety of Sizes and Styles to choose from.  Maybe a simple rectangular Table at Dining height with Island Side Chairs suite you.  Or maybe a more intimate 41" Square Table at Bar Height with Adirondack Swivel Chairs is more your style.  The Octagonal Picnic Table is also a great choice.  We have it all!  Durability, virtually no maintenance, and Comfort are coming your way!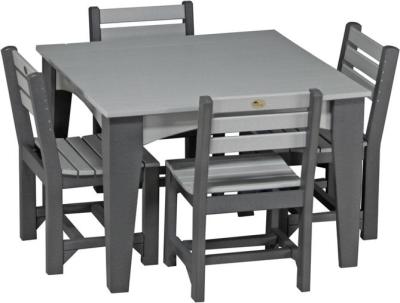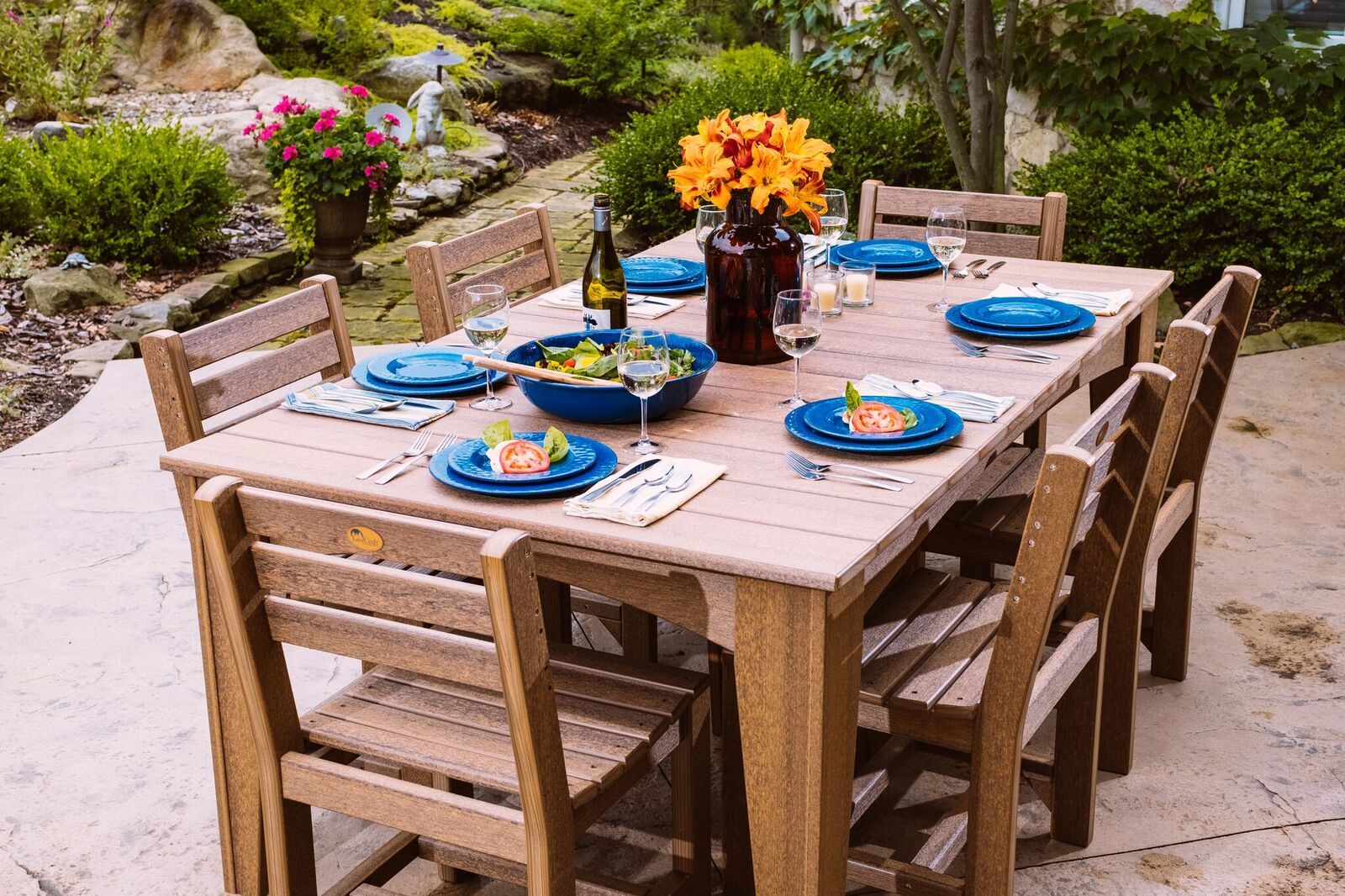 ​
Poly Island Dining Tables
​

Premium Woodgrain Antique Mahogany



​

Island Buffet Table

 

(Counter Hgt.)

  $670

Island Dining Table  44" Square      $742

Island Dining Table  44" x 72"         $1075

Poly Island Dining Table - 44" Square
Shown with 4 Side Chairs in Dove Gray/Slate
​​Poly Island Dining Table - 44" x 72"

​Shown with 6 Side Chairs In Antique Mahogany

Porch Rocker in Cherrywood/Black

Poly Island Dining Tables shown with Optional Chairs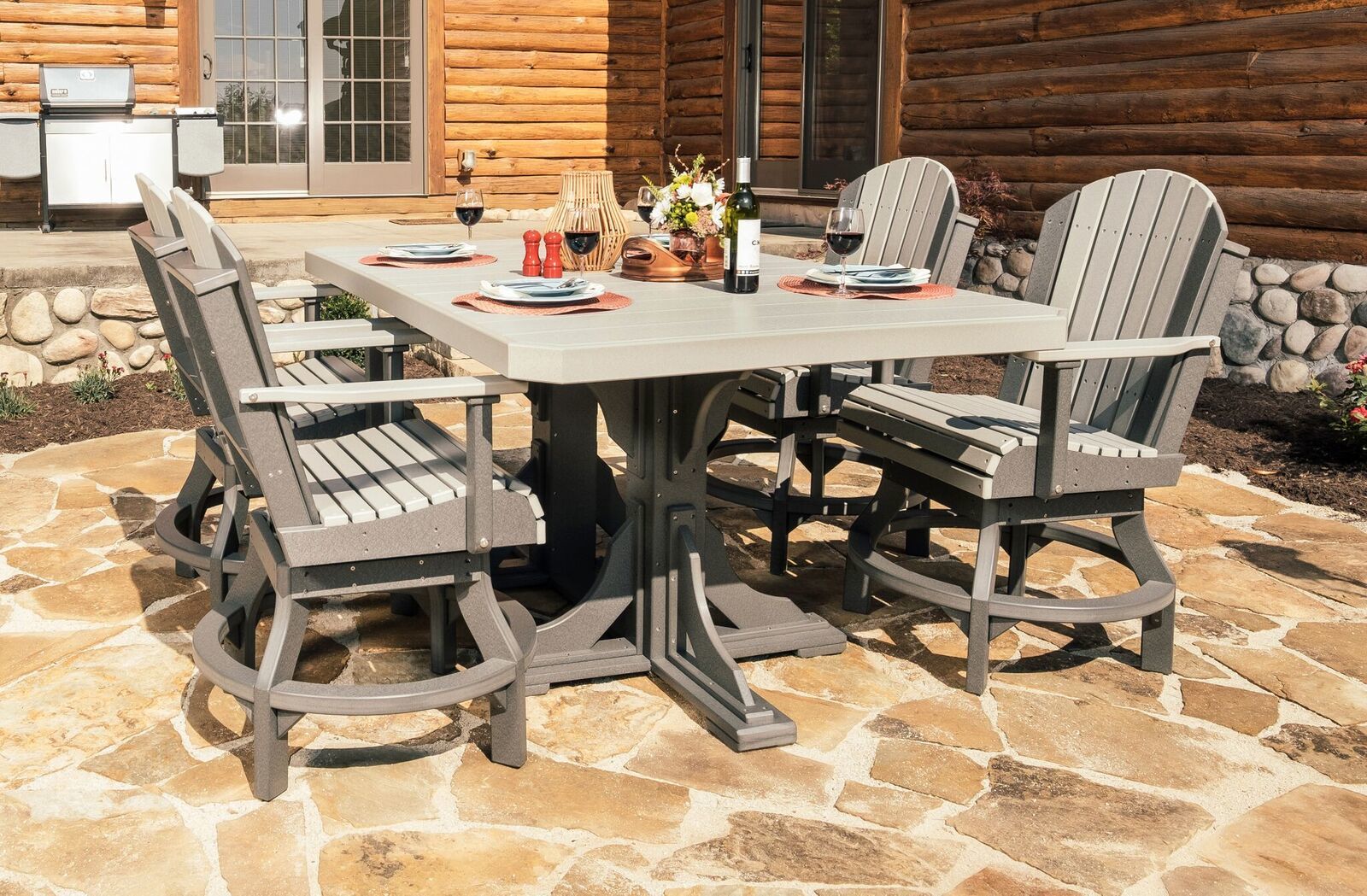 ​
4' x 6' Rectangular Tables
​

Premium Woodgrain Antique Mahogany

​​

Dining Height
(30")
​

A   $1088
Counter  Height
(36")
​

$1229
Poly 4' x 6' Rectangular Table with Optional Adirondack
Swivel Chairs 
at Counter Height in Dove Gray/Slate

Poly 4' x 6' Rectangular DiningTables shown with optional chairs
​
Poly 41" Square Tables 

​​
​

​

​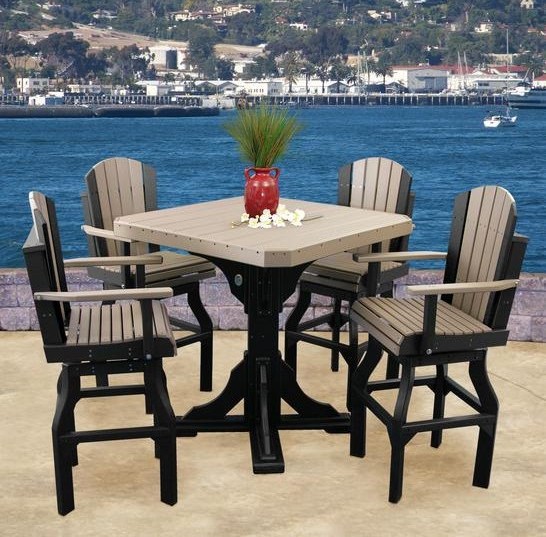 Dining Height
(30')

​

C   $683
​D   $754

Counter  Height
(36')

​

$770

​

​Poly 41" Square Table in Weatherwood/Black
at Bar Height with 4 Optional Adirondack Swivel Chairs

Poly 41" Square Tables shown with Optional Chairs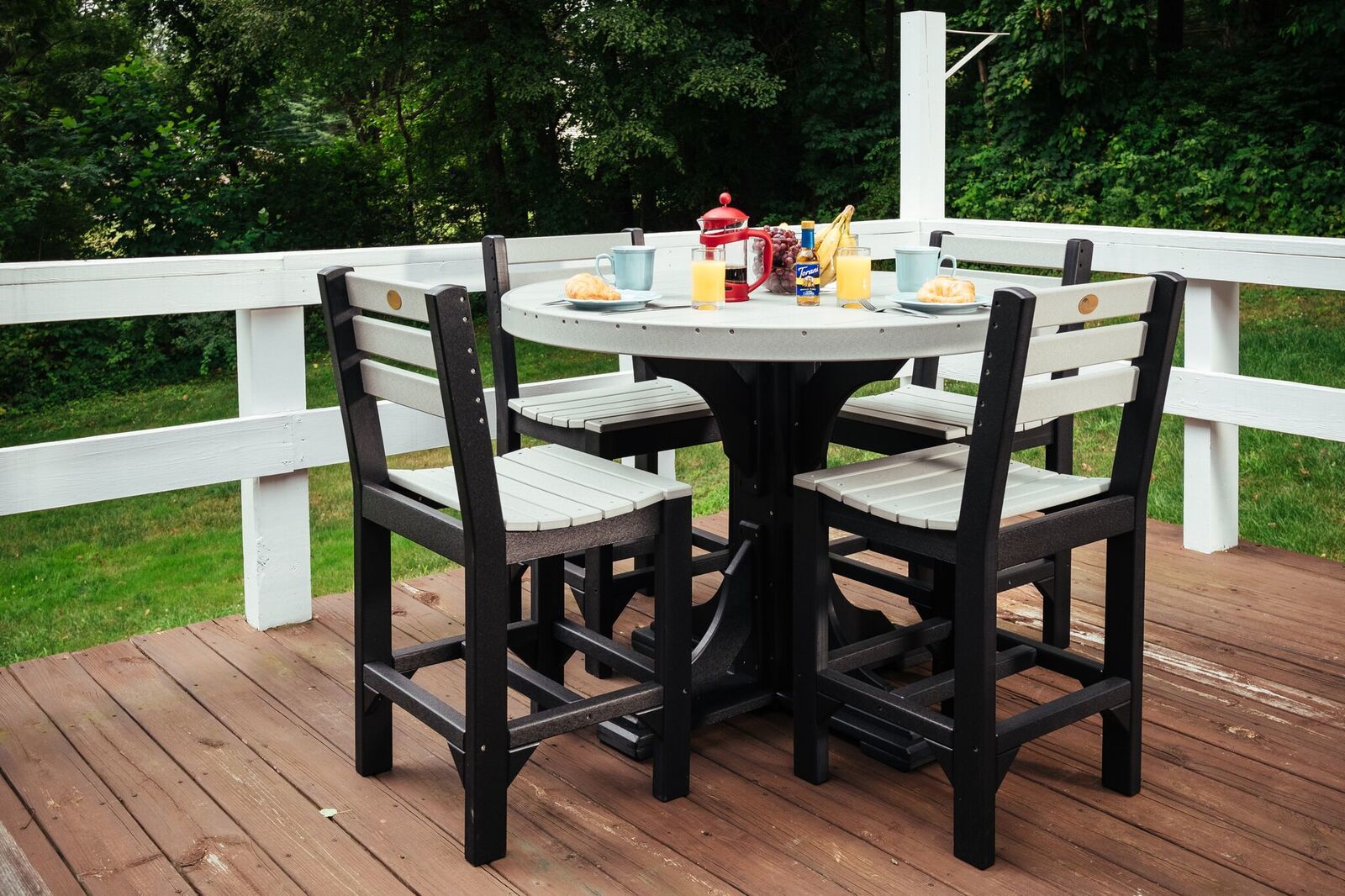 ​
Poly 4' Round Tables 

​​
​
​

Premium Woodgrain Antique Mahogany

​

Dining Height
(30")

​

E   $733
​F   $806

Counter  Height
(36")

​

$822

​Poly 4' Round Table in Dove Gray/Black
at Counter Height with 4 Optional Island Chairs

​
Poly 4' x 6' Oval Tables 

​​
​
​

Premium Woodgrain Antique Mahogany

​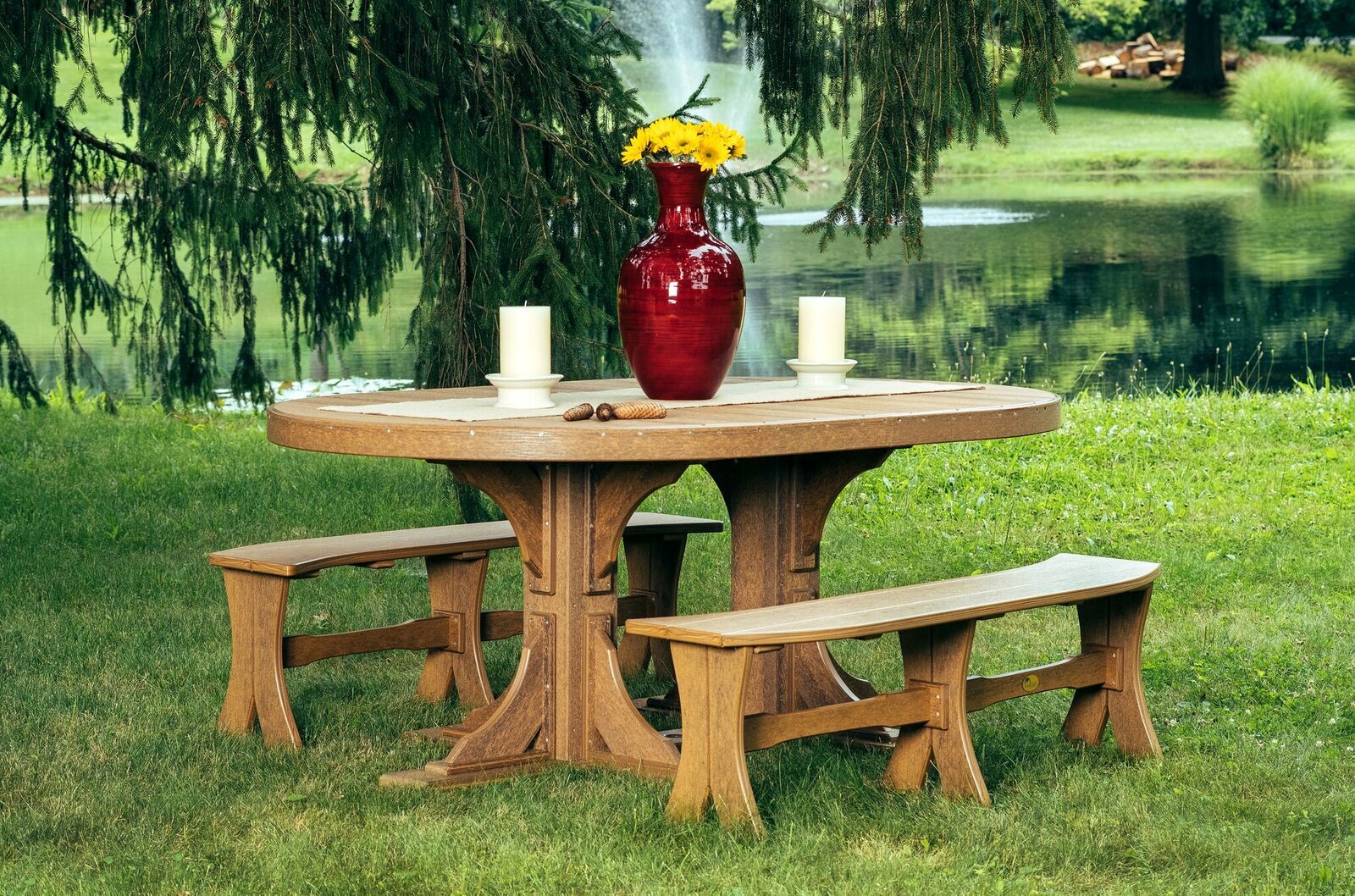 Dining Height
(30')

​

G   $1042
Bar Height
(42')

​

​

$1198

​Poly 4' x 6" Oval Table in Premium Woodgrain Antique Mahogany
Shown at Dining Height with Two Optional  52" Benches

Poly 4' x 6' Oval Tables shown with Optional Chairs & Benches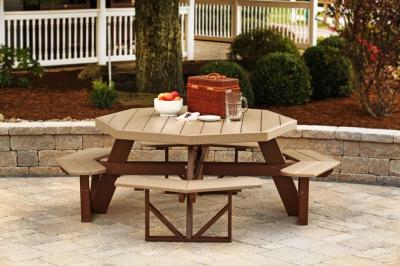 ​
Poly Octagon Picnic Table & 6' Rectangular Picnic Tables 

​​
​
​

Premium Woodgrain Antique Mahogany

​

​
Dining Height
(30")

​

I   $1304
J   $1130
​K   $1435

L   $1242
Counter  Height
(36")

​

N/A
N/A
​N/A

Bar Height
(42')

​

N/A
N/A
​Poly Octagon PIcnic Table
in Weatherwood/Chestnut Brown

Poly Octagon Picnic Tables & 6' Rectangular Tables
​
Poly Serving Bar & Balcony Tables 

​​
​
​

​

Premium Woodgrain Antique Mahogany

​

​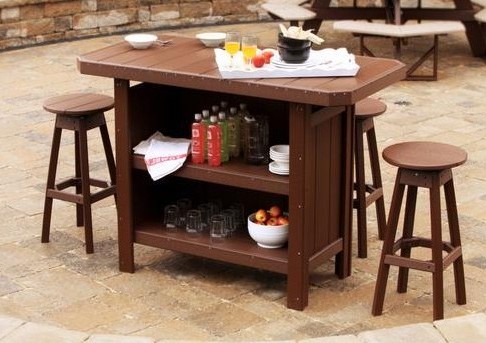 Counter  Height
(36")

​

$418
N/A
​$461

Bar Height
(42')

​

$883
N/A
Dining Height
(30")

​

M   N/A
N   N/A
​O   N/A

P   N/A
​Poly Serving Bar
in Chestnut Brown
Shown with Optional Bar Stools

Poly Serving Bars & Adirondack Balcony Tables